Branding Methods
Supacolour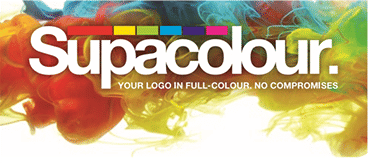 What is Supacolour?
Supacolour is the latest technology in digital reproduction of logos. It is a proprietary technology applied in-house that is exclusive to Epicentre, and in just 5 days from artwork approval to dispatch, it is very fast. It can reproduce logos perfectly without a need to compromise.
What are the benefits of using Supacolour?
- Unlimited colours and high vibrancy
- Ultra-high detail (finest of text, perfect colour gradients)
- Allows free floating text without any weeding required, hence the low cost
- Ultra-high resolution – photo reproduction achievable
- High stretchability and versatility in terms of fabrics and where it can be applied
- Robust! Can be applied across seams and on coarse fabrics.
- 100+ washes, will outlive the product and won't peel, crack or fade.
- Using the highest quality, eco-friendly inks and no vinyl as well
- Saves time and money with very simple, cost effective pricing structure
Supasub
What is Supasub?
Supasub is a proprietary technology done in-house that is perfect for when the detail in a logo can't be reproduced with embroidery but you still want the look of embroidery. Supasub is perfect for products where Supacolour isn't viable like beanies and scarves.
Supasub gives fantastic detail, vibrancy and quality but the embroidered edge offers a real point of difference – essentially it's the best of both worlds! Supasub is a fast turnaround in just 5 days from artwork approval to despatch with a pricing structure that is very simple
What are the benefits of using Supasub?
- Detail (finest of text, perfect gradient)
- High Resolution
- Versatility – can be applied to bags, caps, beanies, scarves, apparel
- Lightweight feel compared to solid embroidery
- Choose what colour thread for matching or contrast
- Choose from satin stitch or cross stitch for a different look and feel
Supaetch
What is Supaetch and when should it be used?
Supaetch is a new on-trend decoration method at the moment. The laser-etched suede patch is laser-cut then over locked onto a range of products like, headwear, bags, blankets, beanies and scarves. The stylish finish is subtle yet effective, showcasing both the product and your brand in a professional manner with a high perceived value.
It is available in 11 different colour suedes and with the ability to select either a contrast stitch or a matching stitch, the colour is your choice. This provides you the ability to customise the finish to suit the product and logo perfectly.
Supaetch offers a fast 5 day turnaround from artwork approval to dispatch with a pricing structure that is very simple.
What are the benefits of using Supacolour?
- Unlimited colours and high vibrancy
- Ultra-high detail (finest of text, perfect colour gradients)
- Allows free floating text without any weeding required, hence the low cost
- Ultra-high resolution – photo reproduction achievable
- High stretchability and versatility in terms of fabrics and where it can be applied
- Robust! Can be applied across seams and on coarse fabrics.
- 100+ washes, will outlive the product and won't peel, crack or fade.
- Using the highest quality, eco-friendly inks and no vinyl as well
- Saves time and money with very simple, cost effective pricing structure